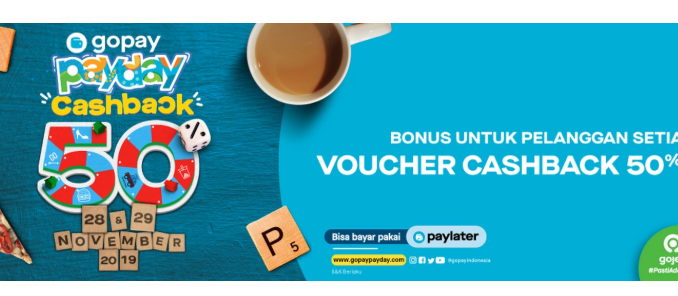 GoPay Payday!!Tanggal 28 & 29 November 2019, ada CASHBACK 50% di McDonald's, Chatime, Burger King, Yoshinoya, CFC, Dcrepes dan ratusan Rekan Usaha GoPay lainnya
Syarat dan Ketentuan Promo GoPay Pay Day Cashback 50%
Khusus pembayaran di tempat menggunakan GoPay.
PayLater dapat digunakan sebagai metode pembayaran bagi Pengguna terpilih.
Tanpa minimum transaksi.
Maksimum 1 kali cashback/pengguna/rekan usaha/periode.
GoPay berhak menentukan nilai maksimum setiap promo dalam S&K khusus promo terkait.
Pengguna Baru: Cashback 50% maksimum Rp25.000/transaksi untuk transaksi pembayaran pertama di Rekan Usaha GoPay yang terdaftar 4 hari sebelum periode GoPay Payday (tidak termasuk transaksi GoPay di rekan usaha online dan/atau untuk layanan di dalam aplikasi Gojek seperti GoRide, GoFood, GoSend, dan lainnya).
Pengguna Setia : Cashback 50% maksimum Rp15.000/transaksi + Voucher Cashback Senilai 50% hingga Rp10.000 untuk transaksi berikutnya di rekan usaha GoPay terpilih (tidak termasuk transaksi GoPay di rekan usaha online dan/atau untuk layanan di dalam aplikasi Gojek seperti GoRide, GoFood, GoSend, dan lainnya).
Maksimum 1x voucher cashback/pengguna/periode promo.
Voucher akan diterima dalam 3×24 jam hari kerja dan berlaku selama 14 hari setelah voucher diterima.
GoPay berhak menentukan dan/atau mengubah status keikutsertaan setiap pengguna dan/atau rekan usaha terhadap setiap promo sewaktu-waktu.
GoPay berhak menahan atau membatalkan promo kepada dan/atau menarik kembali promo dari pengguna dan/atau rekan usaha tertentu sewaktu-waktu termasuk jika ditemukan tindakan penyalahgunaan (abusive), kecurangan (fraudulent) dan/atau aktivitas mencurigakan lainnya.
Promo berupa cashback dapat dibatalkan jika total nilai transaksi yang masuk ke akun GoPay pengguna selama sebulan telah melebihi batas yang ditentukan (info cek gjk.id/cblimit)
Anda dapat menyampaikan klaim pengembalian uang kepada kami selambat-lambatnya dalam waktu 7 (tujuh) hari kalender sejak tanggal transaksi dengan menyampaikan bukti pendukung yang cukup. Dalam hal demikian kami akan memproses pengembalian uang berdasarkan hasil tinjauan kami atas klaim tersebut. Dalam hal klaim pengembalian uang disetujui, GoPay berhak menarik kembali setiap nilai promo terkait.
GoPay berhak mengubah dan/atau menghentikan promo sewaktu-waktu.
GoPay Payday tunduk pada Syarat dan Ketentuan Umum Promo GoPay yang tercantum di https://www.gojek.com/blog/syarat-ketentuan-umum-promo-go-pay/
Berikut daftar Rekan Usaha yang ikutan GoPay Payday:

A:

Adam cell, Addictea, Adoralezat, Aglioo Restaurant & Coffeeshop, Ajam Goreng Special Lombok Idjo, Aming Coffee, Amos Macaroni, Angel-In-Us Coffee, Anomali Coffee, Antarakata, Aroma Gelato, Arrumy Cathering, Paccerakkang, Arum Coffee, Arunika Coffee Bar and Bistro, Asian Grill, Avocado Lovers, Ayam & Seafood Teh Ageng, Surapati, Ayam Djogja Istimewa, Ayam Geprek dan Sate Taichan Bang Jack, Ibrahim Adjie, Ayam Geprek Dan Sate Taichan Mpok Mer, GoFood Festival CITRA MALL KLENDER, AYAM GEPREK MBOK DHE PURI, Ayam Keprabon, Ayam Mbok Berek, Ayam Panggor, Mampang Prapatan, Ayam Saos Pedas (ASP), Ayokoppi, Ayookopi Patrick, Mall Ambasador.

B:

Baby Bar, Babyzania, Bakmi Aloi, Bakmi Anita, Karawaci, Bakmi Medan Kebon Jahe, Bakmi Ncek Legenda, Bakso Ati Raja, Bakso Boedjangan, Bakso Kemon, Bakso Malang Nonik, Bakso Misterius, BAKSO PASUNDAN, Bale Air, Pandaan, Bali Brownies, Bangi Cafe, Bapades Coffee, Barb Q, Baso Malang Karapitan, Baso Mie Kopi, Beatrice Clothing, Bebek Gembil, Tomang, Bebek Goreng Harissa, Bebek Joper, Bebek Peking Oye Hartono Mall, Bebek Renon, Bebek Sambalado, Bebek Semangat, Belgian Wafel, Bengawan Solo, Bentoya, Bibit, Bittersweet by Najla, Bleum Coffee, Blue Lane Coffee, Bobobobo, Boboutea, Bonjour Bakery, Booking Lokal, Bornga Express, Bos Bebek Cabang 1, Fatmawati, Boss Ayam Geprek, Brasserie Bakery & Resto, BreadLife, Brooklyn Barbershop, Brownbag, Brun Premium Chocolate, Buana Bakery, Burger Bangor, Bursa Sajadah.

C:
Caffe Bene, Calais, Calzone Express, Cendol Queen Elizabeth, Chang Tea, Chao Thai Tea, Chatswood Coffee, Chew by Red Bean, Chicago Popcorn, Chicken Crush, Chickro, Chingu Cafe, Chio Japanese Toast, Chir Chir Indonesia, Chlorine, Choco Village, Chopstix, Chubo Chubo, Cimosu (Cireng Mozarella Surabaya), ITC, Cincau Station, Ciputra Life, Clairmont, Co.Choc, Coco Rico Cafe and Resto, Coco Tea, Coffee At Terra, Coffee Toffee, Cofi by Cozyfield, Cold Stone Creamery, Container Kebab Baba Rafi, Cosmic Diner, Cozyfield, Crunch N' Crunch, Cubeef Sunter, Lunatic Performance, Cuppa Coffee.
D:
D'Cika Cakes & Bakery, D'Raja Coffee, D'penyetz, Daddy's Takoyaki Makanholic, Jalan Kartini, Daily Roast Coffee, Dairy Queen, Daon Dine & Coffee, Dapoer Marpoyan, Depan ImGeprek Bensu, Dapoer Ole Ole, Dapur Cianjur, Dapur Cokelat, Dapur Nyomudz Sambon, Banyudono, Darlene Steak, Dazzle, DBL Store, De' Belango, Setiabudi, Delapan Padi, Delico, DEMANDY, DEMIE, Depot Wijaya 2, Dinar Seafood, Dino Burger, Dino Gojes,Klipang Raya, Dinomarket, Dip Inc, District 7 Coffee, Djon's Pizza, Dolkopi, Domino's Pizza, Dough Darlings, Dragontos, Drinktuh, Dum Dum Thai Drinks
E:

Eatlah, Ebisoba Ichigen, Eiger, El Nino, Mahendradatta, El's coffee, Elevenia, Elizabeth Bag, EMJI Coffee Bar, EOMJI, Epik Kebabs, Es Campur Bangka 95 & Es Kocok Cincau, Karang Tengah, Es Teler 77, Esodji Palembang Icon, Excelso, Eyelovin
F:
Famecase, Farmaku, Fi:ka Kedai Kafi, Fish & Cheap, Fla-Fla Milkshakes, Food Fair Mall Ciputra, Food Library, Fore Coffee, Foresthree, Four Bro Chicken, FOYU Coffee & Gelato, Freaks Lounge, Grand Galaxy, French Bakery & Bistro, Frieszilla, Fritato, Frozenshop, Fuwa Fuwa.
G:
Geprek Dek Rini, Sukun, Geprek Ningrat, Geprek Pelakor & Dut Dut Thai Tea , Baladewa, Gibby, Gili Trawangan, Glegek, Glory Bakery, Greenville, GOBAN, Gokana Ramen & Teppan, Golden Lamian, Grain Traders, Gramedia Digital, Gramedia.com, Gudang Kopi Indonesia, Gulaloe!, Gustoso Gelato.
H:
Haben, Haikara Sushi, Hajime Ramen, Hanamaru Udon, Happy Day, Happy Lemon, Hayati Speciality Coffee, Hello Wagyu, Hema, Hoji Cheese tea, Hokkaido Ice Cream Puff, Holdak Crispy Chicken, Holland Martabak & Terang Bulan, Hong Tang, Hop Hop, Hot Star Chicken, HSF Eyewear.
I:
I Cup, Ice Cream Gentong, Imaple bakery n resto, Imperial Cakery, Imperial
Kitchen & Dimsum, Imperial Tables, Indo data dan phone, Istana Wedang, Itoya.
J:
Jack & John Kitchen, Jack Tea and Milk, Jagung Bakar Pulogebang, Cakung, Janji Jiwa, Japun Jaya, Turangga, Java Kitchen, Jodo Kitchen, Joe & Dough, JungleLand Adventure Theme Park, Justus Burger and Steak, Jusyu.
K:
Kaganga Coffee, Kalijodo Coffee, Kantin Qiu, Kata Kopi, Kawai Gankyu, Kebab Turki Baba Rafi, Kebud, Kecut Manis, Kedai 27 Sidoarjo, Kedai Ayumi, Liz & Viz Foodcourt, Kedai Kita, Kedai Kokoho, Kedai Kopi Bojo, Kedai Kopi KINI, Kedai Maknya, Boscha 5, Kedai Minuman Om Ndut, Kantor Polsek TKI 1, Kedai ReRe Rewwin, Waru, KEDAI SANG ESOEN, Kedainayz, Pondok Aren, Kenes Bakery and Resto, Keripik bolang 2, KevinQue, Komplek Villa Mega, Khao Khao, Kiky Cheese Tea, Kim Wan Resto, Koalla, Koba BBQ, Kobar Grill, Kofinary, Kofitiere, Kokumi, Koma, Koma Coffee, Kompas.id, Kopi 27, Kopi Chuseyo, Kopi DaiKohi, Kopi Gaban, Kopi Hub, Kopi Jwara, Kopi Kangen, Kopi Kenangan, Kopi Kenangan , Kopi Kenceng, Kopi Ketje, Kopi Koloni, Kopi Kurang Lebih, Kopi Lain Hati, Kopi Laka Laka, Kopi Maju 57, Kopi Om Broto, Depan Indomaret, Kopi Pujaan, Kopi Saja, Kopi Senayan, Kopi Sepanjang Masa, Kopi Seru, Kopi SOE, Kopi Teman, Kopi Tjioe, Kopi Tulen, Kopi Yor, Kopikir Yogyakarta, Baciro, Kopitiam, Koppi, Kozi Coffee, Krispy Kreme, Kuah, Kukuruyukkoepku, Jln. Riau, Kulakikan, Kuliner Mantap Suroboyo, Pagesangan, Kurogi, Kwetiaw Medan Akiat
L:

Lain Jiwa, Panongan, Lakoe Dessert, Lamian Palace, LANANG BARBERSHOP, Lapar Kenyang Rice Bowl, Lapis Bogor Sangkuriang, Lazizaa, Lemonilo, Let's Go Gelato, Liang Sandwich, Lo.Ka.Si Coffee & Space, Loket, Lomie 61 Kalipah Apo, Lomie Mekar Laksana, Lot 28, Lotteria, Luce Gelato, Lumen Historie, Luthier Coffee
M:
Madam Lee Korean BBQ, Madam Rich, Mamikeki, Manja Cheese Tea, Jalan Raya Kebagusan, Maqui's, Markobar, MARSOETA Street Food, Mars Utara, Mastercheese Pizza, MAZ, A Yani, Mendoan Mas Toni, Menshop, MERCHANT, Meru Coffee, Mie Ayam Bakso Masran 2, Imam Bonjol, Mie inti enggal, Jend.Sudirman, Mie Merapi, Mie Monster, Mie Tarik Leiker, Mieting Point, Milk Go!, Food Junction, MIMIK, Ciganjur, Pertigaan M20, Mister Baso & Baso, Mister Geprek, Mizu Jampang, Jatimulya, Mizuno, Mo-guri, Momoiro, Monkey Bean Coffee, Monkey Bean Corner, Montato, Mos Café, Mr. K, Mr. Shake Tea, Mucho, Mutual Space, My Pretzels, Mynum, MySushi Makassar, Bukit Baruga.
N:
Nao Kao Thai Tea, Nasi Goreng Gila Kachida, Ciputat, Nasi Goreng Milenial, Nasi Kulit Malam Minggu, Nasi Padang Everyday, GoFood Festival CITRA MALL KLENDER, Nature's Market, Nebu Restaurant, new RIA Salon, Newtown coffee, Nilo Coffee, Nomar Kopi To Go, Nomer 9, Nomwow: Milk Bar, Nuan, Nyonya Peranakan.
O:

Office2000, OGI Rice Bowl & Ramen, Ohlala!Cafe, oi! Boba, Okonomiyaki Teppanyaki, Old Ben's Coffee, Old Ben's Coffee & Collective, OldTown White Coffee, Omah Lontong Bu Djoko, Buduran, Onezo, Orenji Sushi, Origins, Origo, Otten Coffee, OTW Foodstreet, OWOB COFFEE PASAR BERSIH SINPASA, Ozt Porkribs.
P:
P & N, Loveable Food & Drink, Arjuna Cluster, Pan & Co, Panties Pizza, Pao Pao Kopi, PappaJack, Papparich, Paradigma, Peco Peco Sushi, Pelipur lara Coffee, Pempek Candy, Pempek Ekspress, Pensee Bakery, Penyetan Cok, Persebaya Store, Pezzo, Phos Coffee & Eatery, Pie 33, Pig Me Up, Pillow Cake Bandung, Pizza Saku, Planet Gadget, Platinum, Pojok Seafood HDE 88, Pom Bensin Pd Aren, Pok Pok Chicken, Pokuberi, Serpong Utara, Pondok Cokelat, Pondok Gajah Mada, Pondok Ikan Dua Putri, Popchick Chicken, Pulo Gadung, PRITO, GG.H HALIMAH, Proud To Post It, PVRA.
R:
Raa Cha Suki & BBQ, Raffel's, Rahasia Kopi, Railway Coffee, Rayuan Pulau Kopi, Red Bean, Red Rice, Resto Ngalam, Restoran Hotel Grand Anugerah, Rice Bowl, Rindu Cheesetea, Lowokwaru, Riolo Toko Kue, Lanto Daeng Pasewang, Rm Gang Kelinci III, Roempi Coffee, Rolas Cafe, Roofpark Cafe, Ropang OTW, Roti'O, Rujak Cirebon, Pasar Bulak, ruparupa.
S:

Saigon Coffee Shop, Saka Bento, Saladstop!, Saloka Theme Park, Sambara OPI Mall, Sambel Alu, San Liu Jiu Cuisine, Santika, Saoenk Kito, Sapo Oriental, Sari Laut Musi, Sari Laut Santai, Manyar, Sate Taichan Ngehek, TKI 2, Saychi UNS, SayChizzu, Seblak Asgar, Seblak Bro And Sist, Seblak Ma'epril, Babakan Cilandak, SEBLAK NAMPOL , TALANG JAMBE, Sego In A Cup, GO-FESTIVAL SURABAYA, Sei Lelebo, Selow The BBQ Artisans, Sensa Koffie and Indonesian Bistro, Seven Degrees, Seven Grams, Shabu Q, Shabugram, Share Tea, Shihlin, Shihlinbos, Harapan Indah, Shin Men Japanese Resto, Shintori, Shusi Q, Sidikala Coffee, Slipi, Siliwangi Bolu Kukus, Sim-Six, Singapore Hainanese Chicken Rice, Sir Salon, So What Bubble Cheese, Lippo Mall Puri, Social Affair, Sociolla, Somay Batagor Akbar, Stasiun Sudimara, Soteria resto, Soto Betawi Bang H. Pitung, Sotomie Bogor AA Jolan, Mampang Prapatan, Specs, Spring & Summer, St. Eve, Semanggi, Sugakiya, Sukiya, Sumo Squid, Sumo Sushi Bar, Sundae Monday, Superoti, Sushi Oji by Yellowfin, Suteki, Svarga Coffee and Eatery, Sydwic, Symbolize.
T:

Tahta Coffee, Tahu Susu Bandung " ZM ", Pujasera Nusantara, Taiwan Tea House, Takoyaki Yamatoya, Taliwang Bali, Tamani, Tammia, Tamnak Thai, Tamper Coffee, tanamduit, Tanamera Coffee, Teapresso, Teguk, Tempura O-Gi, Ternakopi, Texas Chicken, Thai Alley, Thai Street, Thai tea bom bom, The Coffee Bean & Tea Leaf, The Good Friend, The Yumz by Imperial Group, Three Buns, Toeng Market, Toko 27, Toktok.id, Tom Tom, Tomaple Gourmet Potato Donuts, Torch, Tori Ichi, Tous Le Jours, Tujuhari Coffee.
U:

Upnormal Coffee Roasters, Upsolute Cafe, Urban Latte.
V:
VIOLET SALON DAN JAVANA HOME SPA.
W:
Wafflecone, Waroeng Kaligarong, Waroeng Western, Warung Asik 18, Warung Iga Ayam Penyet Dimadu Yazdan, Kotabaru, Warung kopi joe, Warung Kopi Limarasa, Warung OMA, Cikarang, Warung Pedes Kemang, Warung Penang, Warung Sate Madura H. Amir, Bogor, Warung Sherina, Kartini 13 Dalam, Warung Soto Batok & Sayur Asem, Senen, WARUNG VANAJASHI, Warung Wagyu Fatboys, Warunk Upnormal, Watsons, Wearinasia, What's Up Cafe, Wonder Culinary.
X:

Xcoffee, Xiabu Xpress, Xiabu-Xiabu, XO Suki Makassar, Xtrans Shuttle.
Y:
Ya Kun Kaya Toast, Yamatoya Curry, Yolé, Yorichi Korean BBQ Korean, Yosana Laundry88,Tebet, Youreka, Yussy Akmal.
Z:
Zenius Education, Zeribowl, Zojirushi.
REKAN USAHA ONLINE, CASHBACK 50% MAKS. 20,000 UNTUK PENGGUNA GOPAY DI PLATFORM MERCHANT
Khusus pembayaran menggunakan GoPay
Promo berlaku di tanggal 28 November – 1 Desember 2019 (10.00 – 23.59 setiap harinya). Khusus untuk Fore Coffee, Kopi Kenangan, Kulakikan, Otten Coffee, Mapaya, Must Eat, dan Omiyago berlaku dari pukul 00.00 setiap harinya
Cashback maksimum Rp20.000/transaksi
Tanpa minimum transaksi
Maksimum 1 kali transaksi/pengguna/rekan usaha/periode
Berlaku 1 kali/perangkat dan IP/periode
Cashback akan diterima maksimal dalam 1×24 jam
Kuota promo terbatas setiap harinya
Promo hanya berlaku untuk akun Gojek yang dibuat paling lambat tanggal 25 November 2019.
Hanya berlaku di Merchant :
ATS the Label
babyzania.com
Beatrice Clothing
Bibit
Booking Lokal
Ciputra Life
DBL Store
Dinomarket
Eiger
Elevenia
Elizabeth Bag
Eyelovin
Famecase
FARMAKU
Fore Coffee
Frozenshop.com
Gibby
GOBAN
Gramedia Digital
Gramedia.com
HSF Eyewear
INSTAPRINT
JET express
Jovee
K24 Klik
Kawai Gankyu
Kompas.id
Kopi Kenangan
Kulakikan
Lemonilo
Loket
Mapaya
Menshop
Mizuno
Mountoya
Mucho
Must Eat
Natural Farm
Nature's Market
Nonarara
Omiyago
Otten Coffee
Persebaya Store
Proud To Post It
PVRA
redBus
ruparupa
Santika
sociolla
Specs
Symbolize
tanamduit
Toktok.id
Torch
Watsons
Wear In Asia
WINA-SS
Yukbanyuwangi
Zenius Education