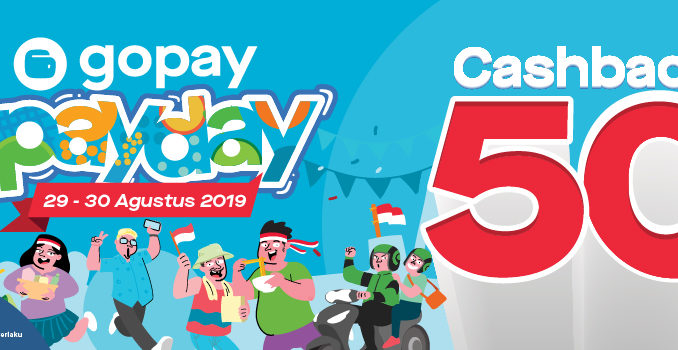 Ada CASHBACK 50% di ratusan rekan usaha GoPay tanggal 29 & 30 Agustus 2019! Ini saatnya kamu merdeka dari tanggal tua!
Syarat dan ketentuan Promo GoPay Pay Day:
Khusus pembayaran di tempat menggunakan GoPay.
PayLater dapat digunakan sebagai metode pembayaran bagi Pengguna terpilih.
Tanpa minimum transaksi.
Maksimum 1 kali cashback/pengguna/rekan usaha/periode.
Pengguna Baru: Cashback 50% maksimum Rp25.000/transaksi untuk transaksi pembayaran pertama di Rekan Usaha GoPay yang terdaftar 4 hari sebelum periode GoPay Pay Day (tidak termasuk transaksi GoPay di rekan usaha online dan/atau untuk layanan di dalam aplikasi Gojek seperti GoRide, GoFood, GoSend, dan lainnya).
Pengguna Setia: Cashback 50% maksimum Rp15.000/transaksi + Voucher Cashback Senilai 50% hingga Rp10.000 untuk transaksi berikutnya di rekan usaha GoPay terpilih (tidak termasuk transaksi GoPay di rekan usaha online dan/atau untuk layanan di dalam aplikasi Gojek seperti GoRide, GoFood, GoSend, dan lainnya).
Maksimum 1x voucher cashback/pengguna/periode promo.
Voucher cashback berlaku untuk transaksi selanjutnya di rekan usaha GoPay yang ada di bawah ini.
Voucher akan diterima dalam 3×24 jam hari kerja dan berlaku selama 14 hari setelah voucher diterima.
Promo dapat berubah sewaktu-waktu tanpa pemberitahuan sebelumnya.
Berikut daftar rekan usaha yang ikutan GoPay Pay Day:
A:
Addictea, Adoralezat, AEON Store, Aglioo! Pizza And Coffeeshop,Aiola, Akabay, Ali Kopi Cafe & Roastery, Almond Tree, Aming Coffee, Amos Macaroni, Anak Panah, Angel-In-Us Coffee, Anomali Coffee, Antarakata, Arah Kopi, Arum Coffee, Asia Martabak Jepang, Asian Grill, Avocado Lovers, Ayam Asix, Ayam Berempah Paha Dada, Ayam Djogja Istimewa, Ayam Geprek Bunda, Ayam Geprek Noni, Ayam Penyet Ria Khas Ibu Ruth, Ayam Saos Palembang.
B:
Babe Bakery,Baby Bar, Bakmi Aloi, Bakmi Bintang Gading, Bakso Babat Salatiga Agung, Bakso Kemon, Bakso Misterius, Bakso Rusuk Jawara, Bakwan Malang 99, Balakosa Coffee & Co, Bali Bakery, Bali Brownies, Bandeng Juwana, Barb Q, Barby's Cafe, Baso & Mister Baso, Baso Malang Karapitan, Baso Mie Kopi, Bebek Semangat, Bel Mondo Caf, Bentoya, Big Ben Kopi, Blue Lane, Bornga Express, Brasserie Bakery & Resto, BreadLIfe, Brooklyn Barbershop, Brown Fox waffle coffee,Buana Bakery, Burger King, Burger Up, Burgushi
C:
Caffe Bene, Calais, Caribou Coffee, Carl's Jr., Cart Coffee, Casa Dupi, CFC, Chang Tea, Chao Thai Tea, Chew, Chiayo, Chicken Run, Chickro, Chingu Cafe, Chir Chir Indonesia, Chopstix, Cincau Station, Clairmont, Click House, Co.Choc, Coco Rico Cafe and Resto, Coffee At Terra, Coffee Toffee, Colette Lola, Cozy Cafe & Resto, Cuppa Coffee.
D:
D'Cost, Daeng Coffee, Daily Bread, Dairy Queen, Dapoer Ole-Ole, Dapur Radja, Darlene Steak, Daun Lada, Dcrepes, Delicio, Delico, Dimsum Si Menur, Dirtychicks, Djon's Pizza, Dolkopi, Domino's Pizza, Doner Kebab, Dragontos, Dum Dum Thai Drinks, Dyriana Bakery.
E:
Eastmant, Eatlah, El's coffee, Epik Kebabs, Es Teler 77, Excelso.
F:
21 Factory, Fat Bubble, Fi:ka, Flix Cinema, Food Fair Ciputra, Foresthree Coffee, Foyu Coffee & Gelato, French Bakery & Bistro, Fufufu.
G:
Game Master, Gokana Ramen & Teppan, Goola , GOOMA, Gulai Kepala Ikan Pak Untung, Gustoso Gelato.
H:
Hachi Hachi Bistro, Hachiban, Haikara Sushi, Hajime Ramen , Happy Day, Happy Lemon, Haro Coffee, HAUS!, HokBen, Holland Martabak & Terang Bulan, Hompizz Pizza, Hop Hop.
I:
I Cup, Ichiban Sushi, Imperial Cakery, Imperial Kitchen & Dim Sum, Imperial Tables.
J:
Jack & John , Justus Burger and Steak.
K:
Kaktus Coffee Place, Kalijodo Coffee, Kampoeng Seafood, Kandang Ayam, Karniv.012, Kecut Manis, Kedai Kokoho, Kedai Kopi Bojo, Kedai Kopi KINI, Kedai Kopi Kulo, Kedai Roti Kobi, Kedai Sonja, Kene Coffee House, Khao Khao, Kiky Cheese Tea, Kkuldak, Kobar Grill, Koffie O'klok, Kofinary, Kofitiere, Kohi Soft Ice Cream & Coffee, Koma, Koo Kee Singapore Restaurant, Kopi 27, Kopi Cuan, Kopi Dulu, Kopi Janji Jiwa, Kopi Jwara, Kopi Kenangan, Kopi Kenceng, Kopi Ketje, Kopi Lain Hati, Kopi Pujaan, Kopi SOE, Kopi Teman, Kopi Tjioe, Kopi Toko Djawa, Kopi Tuya, Kopi Yor, Kopikabana Coffee & Kitchen, Kopikirankamu, Kopitagram, Kumpeni Coffee & Ice Cream Jogja, Kurogi, Kwetiau Medan Akiat.
L:
Lacasa Coffee & Pizza, Lamian Palace, Latteria (EDC), Lazizaa, Liang Sandwich, Lo.ka.si Coffee & Space, Locarasa, Lombok Idjo, Lot28, Lotteria, Luthier Coffee.
M:
Mamikeki, Maqui's, Martabak Bandung Erwin, Martabak Bro, Martabakku Menteng, Mastercheese Pizza, Matador Country, McDonald's, Mecah Piting, Mie Aceh Seulawah, Mie Inti, Mie Merapi, Mie Zhu Rou, Mieting Point, Mister Geprek, Mo-guri, Monkey Bean Coffee, Monkey Bean Corner, Mr Token, Mr. Shake Tea, Mr.K, Mutual Space, Mynum.
N:
Nanny's  Pavillon, Nebu Restaurant, Negiya, Newtown Coffee, Ngocok Es Kopi, Ngopi Asix, Nomar Kopi To Go, Nomer 9
O:
Oko Oko Japanese restoran, Old Ben's, Old Ben's Coffee & Collective, Old Town White Coffee, Onni House, Optik Seis, Orcee, Orenji sushi, Origo, OTI Fried Chicken, Oto Bento, Ottoman`s Coffee, OTW Foodstreet, OZT Porkribs.
P:
Padang Merdeka, Palembang Kepiting Center, Peco Peco Sushi, Pempek Candy, Pempek Farina, Pensee Bakery, Penyetan Cok, Pie 33, Pig Me Up, Piknik, Pisang Goreng Prima Rasa, Platinum, Pocoyo Waffle & Hotdog, Pok Pok Chicken, Pop Cookies, Portobello pizza, PVRA.
Q:
QQ Kopitiam.
R:
Raa Cha Suki & BBQ, Radja Gurame, Railway Coffee , Rajawali Kopitiam, Rantang Malaka, Red Bean, Red Rice, Resto Ngalam, Restoran Hotel Grand Anugerah, Rice Bowl, Richeese Factory, Roempi Coffee, Ropang OTW, Roti Bakar BunBae, Roti'O.
S:
Saigon Coffee Shop, Saka Bento, Saoenk Kito, Sapo Oriental, Sebelas Coffee, Seblak Asgar, Seblak Jeletet Pademangan 4, Segede Gaban, Sei Lelebo, Seigo, Senandung Alam, Sensa Koffie, Sepiring Padang, Seven Grams, Shabu Q, Shabugramm, Sharetea, Shihlin, Shinmen Japanese Resto, SHSD, Simsix, Sliced Pizzeria, Social Affair, Soto Betawi Bang H Pitung, Spring & Summer, Starbucks, Sugakiya, Sushi Q, Sushi Tei, Suteki, Svarga Coffee and Eatery.
T:
Tahta Coffee, Taiwan Tea House, Takko Dimsum, Taliwang Bali, Tanagodang Coffee, Teguk, Ternakopi, Texas Chicken, The Good Friend, The Harvest, The Kalimilk, The Yumz by Imperial Group, Three Buns, Toby's, Tom Tom, Tori Ichi, Transera Waterpark, Tuan Rumah, Two Cents.
U:
Urban Latte.
W:
Wafflecone, Walao – Eh, Waroeng Kaligarong, Warung Asik 18, Warung Kopi Limarasa, Warung Pasta, Warung Penang, Warung Wagyu Fatboys, Warung Wakaka, Wingstop.
Y:
Ya Kun Kaya Toast, Yamatoten Abura Soba, Yammie Hotplate, Yoshinoya, Yussy Akmal.
Z:
Zenraku, Zeribowl.
Bukan cuma itu, ada juga promo di rekan usaha online dan layanan Gojek lainnya seperti: GoCar, GoRide, GoLife, GoBills, dan GoFood FESTIVAL.
Untuk info lebih lengkap kamu bisa kunjungi www.gopaypayday.com. Kamu juga bisa cek fitur PROMO di aplikasi Gojek buat tau rekan usaha terdekat.
Oh iya, sebelum kamu belanja sepuasnya di GoPay Pay Day, jangan lupa top up dulu saldo GoPay kamu. Tenang, kalo belum tau caranya, lihat di sini! Atau, kalo kamu mau top up saldo GoPay langsung dari aplikasi, lihat caranya di sini. Jangan lupa pastikan PIN kamu sudah terpasang. Caranya? Lihat di sini.
Kalo udah, kamu bisa langsung belanja pakai GoPay. Caranya mudah, ikuti langkah-langkah ini!
Cara bayar pakai GoPay di mesin EDC:
Buka aplikasi Gojek dan klik "Bayar"
Scan kode QR pada struk pembelian yang diberikan oleh kasir
Pastikan jumlah pembayaran sudah sesuai
Masukkan PIN GoPay kamu
Transaksi sukses!
Cara bayar pakai GoPay dengan QR di kasir:
Buka aplikasi Gojek dan klik "Bayar"
Scan kode QR yang terdapat di meja kasir
Pastikan jumlah pembayaran sudah sesuai
Masukkan PIN GoPay kamu
Transaksi sukses!