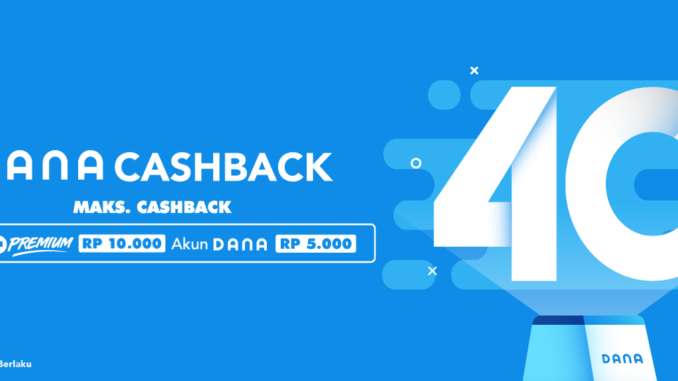 Syarat dan Ketentuan
Periode promo berlangsung selama 22 November – 29 Desember 2019.  
Promo Cashback 40% maksimum sebesar Rp10.000/transaksi berlaku bagi pengguna akun DANA Premium.
Promo Cashback 40% maksimum sebesar Rp5.000/transaksi berlaku bagi pengguna akun DANA.
Akun DANA Premium adalah pengguna DANA yang sudah melakukan verifikasi data diri melalui 3 langkah mudah melalui aplikasi DANA. 
Akun DANA adalah pengguna DANA yang belum melakukan verifikasi data diri di aplikasi DANA.
Promo berlaku tanpa minimum transaksi. 
Promo hanya berlaku untuk 1x/pengguna/minggu untuk seluruh merchant yang bekerjasama dengan DANA.
Promo berlaku untuk 1 akun pengguna dengan 1 perangkat elektronik.
Promo cashback akan diterima maksimum 1 x 24 jam setelah transaksi berhasil.
Pembayaran harus menggunakan kode QR DANA pada mesin scan DANA yang terdapat di kasir.
Promo berlaku di mitra merchant DANA berikut: 10Ten, Shabu Gin, Crunchaus Salads Surabaya, O! Fish, Aunti Annes, Otten, Crunchaus Salads Jakarta, Ozumo (Hachimaki), Autoglaze Carwash, D2 bakery, Daun Lada, Pasarame Surabaya, Autoglaze Express, Calibrew, Gempikoe, Patron, Bakmi GM, EMC Hospital Sentul, Super Grain, Pepper Lunch Bandung, Bakso Dower, EMC Hospital Tangerang, Saint Cinnamon, Pepper's (Hachimaki), Sunny Side Up, Anns Bakehouse & Creamery, Picknick, BaskinRobbin, House Of Omurice, Daytrans, Pochajjang, Beau, Tahta Coffee, Sapo Oriental, Porong Wei, Bebek Dower, Bebek BKB, Mr. Bitsy, Presotea, Bakerzin, Sate BKB, Odysseia, QQ Kopitiam, Bio Medika, Akademie, Yammie, Hotplate, RM Sederhana SA, Blue Lane Coffee, Burgreens, CFC, Roti Bakar RONIN (Hachimaki), Bluemart, Burgreens Express, Doner Kebab, SALD, Carls Jr, KIBO Cheese Cake, Zenraku, Sei Aroma, Caribou, Freshco Mart, Sugakiya, Seroeni, Yumcha Dimsum, Yie Thou (Makan Bareng Group), Shaburi Kintan Bandung, CoffeeBean, Edamame, Mie Pedas Juara (Makan Bareng Group), Sibas, Colette & lola, Hao Chi, Chinese Bistro, Kata Sandi Kopi (Makan Bareng Group), Star Studio, Senator Cafe and Bistro, Dimsum 24H (Makan Bareng Group), Steak21, D'Crepes, Orchard Juice House, J Sushi (Makan Bareng Group), Sushi Tei Bandung, Dairy Queen, STAR Depart. Store, Kopi Yor, Tenno Ramen, Dcost 1, Ropang OTW, Thai Alley, Dcost 2, Shanghai Express XXI, OTW Food Street, Toby's, Divrt, Terrazone, Your Bag Spa, Warung Mapan, Dolcetto Coffee, Terraland, Boutique Office Indonesa, XI BO BA (Kulo Group), Dominos, Bali United, Bateeq, Yakun Kaya Toast, Dream Store Jojo Siwa, Yada Toys, Kopi 27, Cordlife, Tomtom, Kedai 27, D'Boss Barbershop, Fore, Kaukau, Urban thai, Kafe 27, Soto Betawi Nyonya Afung, Gopek, Happy Lemon, Kopi Temu Kangen, Suis Butcher (Suis Family), Gulu-gulu, Hong Tang, Chatuchak Thai Drinks, Sang Pisang, Hokben, FIKA Coffee, Buana Bakery, Kin No Torikara, HokBen (Bandung), Indomen, Clairmont, Kopi Kun-O, Hop-Hop, Sushi Sen, Okirobox, Gordon, Ichiban Sushi, Hong Kong Cafe, Singapore Hainanese Chicken Rice, The Den, Itasuki, RTL, Glosis Restaurant (Gama Group), The Pier, Kafe Betawi, Lalla, Five Monkeys Burger (Gama Group), The Wharf, Kalcare, Solaria, Back Office Bistro (Gama Group), X.O Suki, Kamu Tea, Lion Superindo, Oldbens Coffee, X.O Suki & Gril, KFC, Lion Superindo Express, SHINTORI, X.O Suki Signature, Kimukatsu, Viva Health, Tuan Rumah, X.O Cuisine, King Mango Thai, Miyagi, Sushi Box, Emerald Palace, Kintan, Maison Tatsuya, Bakery Hotel Ciputra, Lao Fook, Kkuldak, Sumoboo, Breso Coffee & Resto, Sukimura, Kopi bojo, The Peak Connosseuir:, What's Up, Tom Sushi – Master Jabodetabek, Kopi Kulo, Grain Traders:, Kokibobs Kebab, Sushi Kiosk – Master Jabodetabek, Kopi Oey, Taliwang Bali:, Kembang Lawang, Sushi Matsu, Kopi Kenangan, Lewis & Carroll, Sagoo Kitchen, Soto Kriuk, Kopitiam, Common Ground, Atria Furniture, Cobek Penyet, Kovee VR, PUYO, En Dining (SPIN Group), Hotplate Xpress, Lokal, Pesto Autentico (SPIN Group), Warunk Fenomenal, Maquis's, St Ali, Brewerkz (SPIN Group), sneakersheet, Martha Tilaar Salon, Sensory Lab, Spincity Bowling (SPIN Group), Lunch Box, Martha Tilaar Shop, Baji pamai, QBilliard (SPIN Group), Anglo Prasmanan, Master Wok, Prima Freshmart, Slice of Heaven (SPIN Group), Kantin TOD, Menya Musashi Bukotsu, Yakiniku Like (PT IKI) –, Fresh & Co (SPIN Group), Sandro Coffee, Excelso (Excelso Group), Pusat Nasi Bakar, Dapur Jum, MKG (MID), Excelso (Excelso Group Franchise), Sushi King, Seafood Pasar Ramai, Monami, Urban Latte (Excelso Group) –, Old Town White Coffee (master), Seafood Laut Makassar, Monami2, Kopitiam Go –, Ombe Kofie, Dapur Kampoeng, MOR, Shaburi & Kintan –, Kopi Laka Laka, Jumbo Beer, Negiya, Waterbom PIK:, Kapal Api Corner, Nasi Tempong Jono, Nosh Kitchen, Laboratorium, Mahakam, ABC corner, Nasi Uduk Bu Jum, Nudles, Burger King, Wingz O Wingz, Nom Wow, Onokabe, Carvil, Francis Bakery, Kopi M, Panama, Le Gourmet, Alien Entertainment, Niyom, Paradise Dinasty, Apotik Mahakam, Games, Le Viet, Paradise Inn, Apotik Senopati, King's Fun, 6PACK, Pepper Lunch, Yuzuki, Element Family Fun, Lapis Bogor Sangkuriang, Pish&Posh, Rayuan Pulau Kopi, Mr. Token, Bolu Susu Lembang, Pizza Milano, Hartono, Indogame, Wake Cup, Putu Made, Wonder Culinary, Lula Bakery & Coffee (Gama Group), Pick Cup, Quiznos, Classified, Bamboo Dimsum, WarteGO, Ramayana, The Duck King, Omija, Gotri, Fook Yew, Old Chang Kee, Lumer Café, Rejuve, Naga Swalayan, Samjin Amook, D'Platter, Rezeki Supermarket, Damn I Love You, Justus Steak House, Ciz Resto, Cozilila, Shigeru, Crazy Barbeque, Roti'O, Ban Ban, Lumer Plus, Sate Khas Senayan, Dynamic Natural Bakery, Goola, Dijual Eatery, SateKhasSenayanExpress, Denny's, Asia Bagoes, Social Affair, Sekar Pala, Famous Amous, Asian Grill Express (Justus Group), Artisan Social Affair, Hello Sunday, Family Mart, Bakerzin Bandung, Coco Ichibanya, Shaburi, Roemah Kuliner, Bar Urban Kitchen, Ootoya, Shaburi & Kintan, Sate Ayam & Kambing Megaria, Bar.B.Q Plaza, Hoshino Coffee, Share Tea, Champ Group, Bonjour Bakery & Pastry, Ayam Jerit by Titi Kamal, Silly twist, Chopstix, Boogie Doggie Cafe, Bing Ge, SourSally, Ayam Bulungan, Boogie Doggie Grooming, Sinou Kaffee, Spin Fish Poke Bowl, Box O! Fish, Hot Star, Tamani, DumDum Waterpark, Chili by Seroeni, Penyetan Cok, Tamani express, RamenYa!, Cotota, Bebek Semangat, Tamani plus, Imperial Kitchen & Dimsum, Eastern Restaurant, Suteki Sushi, Imperial Shanghai, Fat Bubble, Grillnesia, Tesate, Imperial Mart, Fat Oppa Korean BBQ, Brother Jonn & Sons (Suis Family), The Gade Coffee & Gold, Imperial Steampot, Fried Chicken Master, Mendjamu (Suis Family), Pizza Pezzo, Gemba Katsu, Ride Jakarta, Vines, Kiddi Kiddo Playland, Golden Lamian, Penang Paradise, Sushi Tei Surabaya MID, Gormeteria, Spice Paradise, Wendys, Sushi Kiosk Surabaya MID, Hachimaki, Ramen One, Wingstop, Bakerzin Surabaya MID, Happiness Kitchen & Coffee, Eat Drink Chat, Yoshinoya, Shaburi & Kintan Buffet Surabaya MID, Her & Her, The Food Temptation – Summarecon Mall Bekasi, Zone 2000 IFS, Paradise Dynasty Surabaya MID, Ikkudo Ichi, Bekasi Food City – Summarecon Mall Bekasi, Zone 2000 RMS, GIOI Surabaya MID, Jumbo Eatery, Gyukaku, Onokabe Surabaya MID, Kafetaria 170, On Yasai, Marutama Surabaya MID, Kedai 170, Sushi Tei – Master Jabodetabek, Kimukatsu Surabaya MID, Kitamura, Isshin, Secret Recipe, Kasoh MID, Kopi Scooter, Dum Dum Thai Tea, Hokkaido, Toby's Estate MID, Lapar Kenyang, Warung Upnormal – Master, The Dorcas Galeteria & Coffee, Si Kopi Biru, Lawson, Upnormal Coffee Roaster – Master, Saladstop, Kandang Ayam, Mang Rawit, Bakso Boedjangan – Master, Avocado Lover, Kiri Desu, Mangkok Ayam Setiabudi, Ayookopi, Old Town Coffee, Mamamia, Mangkok Ayam Festival Citylink, Dejamu, Rempah Bali, Momoiro, Meru Coffee, New Star Cineplex, Martabak Boss, Abura Soba, Mie Mapan, Kwetiau Bagan, ShuShu, Tiger Sugar, Moodbooster Coffee, Hao Hao Chi, Happy Puppy, Starbucks, The Yumz, Imperial Tables, Imperial Cakery, Happy Day, Lamian Palace, Mama Tina, Family Mart.
DANA berhak, tanpa pemberitahuan sebelumnya, melakukan tindakan-tindakan yang diperlukan apabila diduga adanya tindakan kecurangan atau penyalah gunaan dari pengguna. 
DANA berhak meminta pengguna untuk melakukan peningkatan akun menjadi DANA Premium jika diperlukan untuk verifikasi data.
Syarat dan ketentuan dapat berubah sewaktu – waktu tanpa pemberitahuan sebelumnya. 
Cara Menggunakan
Kunjungi mitra merchant DANA.
Tap Bayar/Pay pada halaman utama aplikasi DANA dan arahkan kode QR pada mesin scan DANA di kasir.
Cashback 40% akan otomatis didapatkan setelah transaksi berhasil.