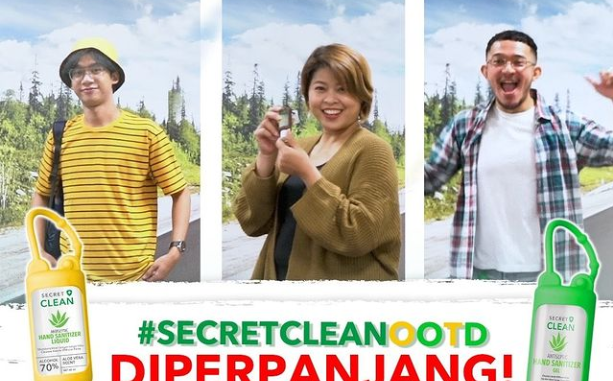 OOTD Challenge dari Secret Clean menangkan hadiah Voucher Belanja Alfamart SETAHUN untuk 16 pemenang beruntung.
Jangan lupa ikuti semua syarat Challengenya dibawah ini :
1. Wajib follow akun Instagram @secretclean.id
2. Ekspresikan OOTD terbaik mu yang terinspirasi dari warna Hand Sanitizer COLOR POP Silicon Holder (50ml / 60ml)
3. Bikin video kamu sekreatif mungkin
4. Tag & mention Secret Clean pada caption dan postingan
5. Tag 5 teman kamu didalam postingan kamu
6. Wajib menggunakan hashtag #SECRETCLEANOOTD
7. Akun tidak boleh diprivate/lock
8. Periode sampai 31 Januari 2021
9. Pengumuman Pemenang tanggal 4 Februari 2021.
Untuk Kamu yang ingin mendapatkan Secret Clean Hand Sanitizer COLOR POP Silicone Holder, Produk bisa dibeli di Alfamart, @oemahherboriststore_id, TOKOPEDIA atau supermarket terdekat di Kotamu..
Tunggu apa lagi, Let's join the Challenge & be more trendy. Hygine can be more Fun!
Voucher Belanja Setahun Juara 1 Rp 2.000.000, Juara 2 Rp 1.500.000, Juara 3 Rp 1.000.000 Harapan 1 Rp 750.000, Harapan 2 Rp 500.000, Harapan 3 Rp 250.000 , 10 Pemenang Favorit Rp 100.000